Qmusic: "Meer, sneller en eenvoudiger video content beschikbaar met LiveU van Heynen."
Carlo Boszhard is 50 jaar geworden. Qmusic zag hierin een mooie aanleiding om een pop in Carlo's tuin te zetten. Hoe leuk is het als je dan als luisteraar ook mee kunt kijken om te zien hoe de pop en Carlo eruit zien, 's morgensvroeg, zonder make-up?
De luisteraars worden hierdoor meer betrokken bij het programma.
Radio maken anno 2019
De tijd dat Qmusic alleen maar audio was, ligt ver achter ons. Via social media worden dagelijks meerdere video's geüpload en de live videostreams van de radio-uitzendingen worden dagelijks door duizenden mensen bekeken. Steeds vaker zijn de reportages op locatie. Om de kijker hier live deelgenoot van te maken ging Qmusic op zoek naar een oplossing.
Goed materiaal
Jaap van 't Riet, Manager Broadcast Facilities & ICT bij Qmusic is verantwoordelijk voor alle technische zaken binnen Qmusic. "Wij zorgen dat onze professionals met goede spullen werken. Eenvoudig in bediening en stabiel in de techniek. Of het nu gaat om de microfoon in de studio of de zendapparatuur op locatie".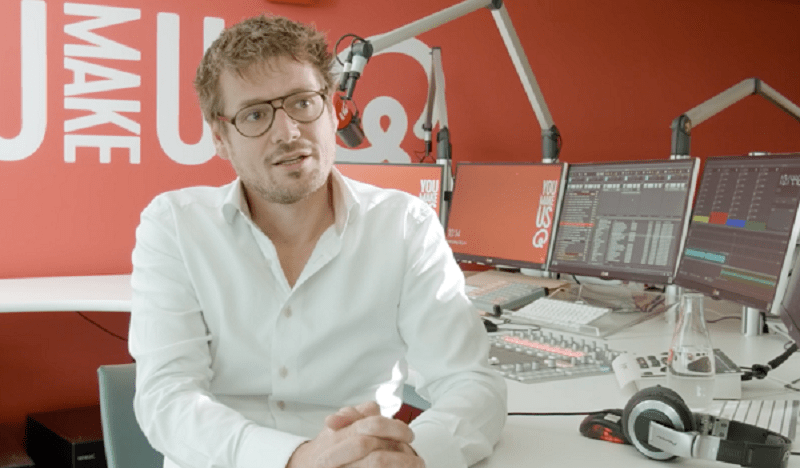 De zoektocht
"In onze zoektocht naar een goede video streamer met audio in studiokwaliteit hebben we de WMT en LiveU naast elkaar getest. Na A-B testen kwam voor ons de LiveU als winnaar uit de bus," vertelt Jaap.
LiveU
"LiveU is voor ons meer dan een vervanging van de Comrex, die wordt gebruikt om enkel audio vanaf locatie te streamen. De LiveU unit kenmerkt zich door zijn hoge plug-and-play gehalte. Je hebt 2 knoppen en de bediening spreekt voor zich. Je hebt audio in studiokwaliteit en ook het beeld is prachtig. Het is een kwaliteitsproduct waar onze reporters graag mee werken.", aldus Jaap.
Huren versus kopen
"De afgelopen jaren hebben we meermalen een LiveU unit gehuurd bij Heynen om op locatie met beeld te verslaan. Dat werkt op zich prima, maar als de redactie van Mattie & Marieke 's middags iets verzint voor de show van morgen, dan moeten we flexibel zijn," legt Jaap uit. "We hebben de LiveU unit nu 1 maand in bezit en ik zie nu al dat men hem steeds vaker uit de kast pakt. Hij staat er nu toch! De investering verwachten we binnen enkele maanden terugverdiend te hebben!"
De samenwerking
"Heynen typeert zich als een bedrijf met ouderwetse service, in de goede zin van het woord. In afwachting van de officiële leveringen hebben we apparatuur mogen lenen, zodat we toch alvast vooruit konden. De samenwerking ervaar ik als super prettig en laagdrempelig" , aldus Jaap.
Het resultaat
"Door de aanschaf van LiveU200e en LiveU2000 hebben we eenvoudig meer content voor de luisteraar. Daarnaast kunnen we sneller en efficiënter content maken voor op onze Facebookpagina, Instagram en natuurlijk onze eigen website. En we kunnen opnames direct naar de studio streamen wanneer een item nog gemonteerd moet worden voordat het online gaat. Hier kunnen onze editors aan beginnen zodra het item geschoten is. Zeker als op ruime afstand van studio in Amsterdam, bijvoorbeeld in Groningen, is gedraaid, dan levert dit een enorme tijdwinst op. Al met al zijn wij super blij met deze prachtige oplossingen en de goede service van Heynen."
---