Professional Services
Time is money. Whether you are in a production environment, in broadcasting, a service provider or in IT, downtime is never an option. Periodic maintenance helps reduce downtime. But even with intensive maintenance, technology can unexpectedly fail. Luckily, in case of product failure, you can count on the expertise of our highly-trained service engineers. Heynen is certified service partner of the the brands we distribute.
Our service engineers have extensive knowledge of the products and their latest features, built on experience and continuous training by our suppliers.
What we do:
(Proactive) Support or planned maintenance, RMA replacement, calibration and upgrades, project management, customization and reporting.
How we do it:
Contact through portal, by email and over the phone;
Contact in Dutch, French and English;
Ticketing;
Your product sent to us in the Netherlands or by on-site maintenance;
Remote or on-site support and upgrades.
How you benefit:
Short lead times;
Lower transportation costs
Detailed information about the status and progress of your repair/upgrade/calibration/maintenance/replacement.
You can choose the level of support that meets your expectations and budget.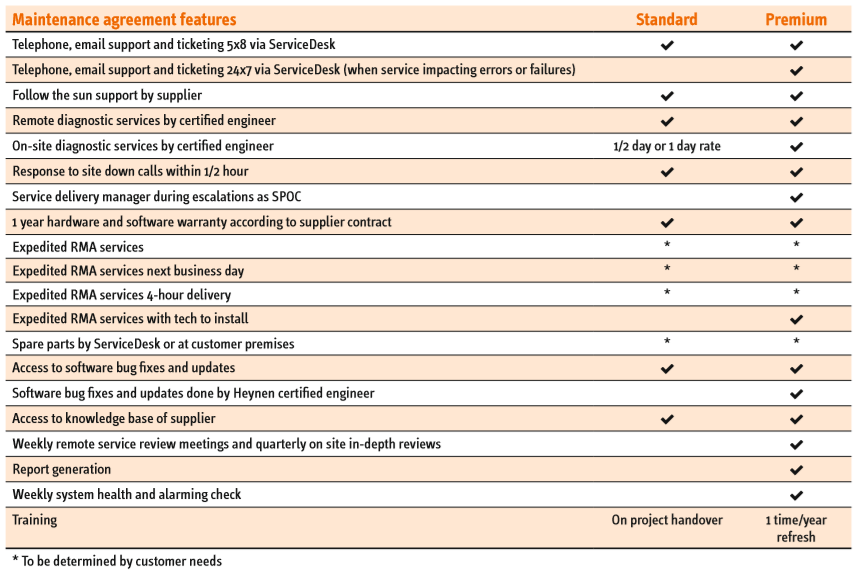 Download our IT professional services brochure.
Download our Professional Media Solutions and Callibration professional services brochure.