VeEX RXT-6402: A True Dual Port 400GE/200GE Solution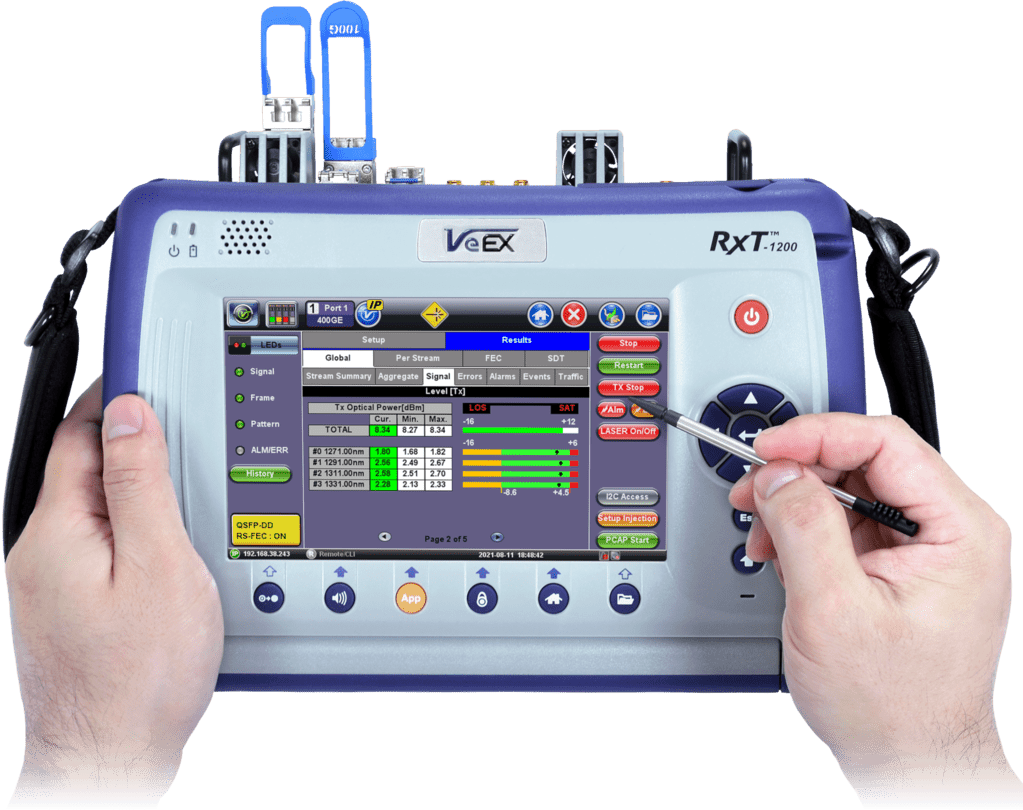 The accelerated field deployment of 400GE technology by high-volume service providers, hyperscalers, and enterprises requires new testing procedures for engineers and technicians to successfully deploy 400GE network elements and services. Testing new technologies enveloped in Active Optical Cables (AOC) and Direct Access Cables (DAC), or QSDP-DD ZR/ZR+ coherent optics are key, but executing the job more efficiently leads to optimized Operations for an organization's 400GE deployment efforts.
Dual port 400GE/200GE/100GE/50GE support in a single module and portable test set enables engineers and technicians in the data center, lab, and field environments to quickly validate and troubleshoot AOCs and DACs, and is crucial to efficient testing and deployment of 400GE network elements.
The RXT-6402's dual port high-speed capability not only allows users to validate the AOC/DAC's physical layer performance by testing with a PRBS BERT and making sure that it meets the pre-FEC BER specifications, but it also allows for the validation of Ethernet/IP frame transport to ensure full-line rate post-FEC performance.
Wrap-around testing of a 400GE switch or router is also possible with the RXT-6402's dual port functionality. Wrap-around tests are important in field deployments to validate the performance of the switch/router before it goes live into the production network. Test scenarios include 400GE-to-400GE, 400GE-to-200GE, 400GE-to-100GE, 200GE-to-100GE, 200GE-to-50GE, and more.

General
2x400GE concurrent testing capabilities
Offers dual ports for all pluggable optics form factors, required for AOC/DAC, fan-out and wrap-around tests (from 10M to 400GE)
Up to four concurrent and independent tests
Native QSFP-DD, QSFP56, SFP-DD, and SFP56 PAM4 hardware for best-in-class signal integrity (no adapters required).
Supports testing for all common form factors, including QSFP-DD, QSFP56, SFP-DD, and SFP56 transceivers, DACs,AOCs, network equipment and 400GE links.
Advanced and flexible state-of-the-art FPGA-based design provides future-proof hardware support for emerging standards, test functions and applications.
Wide range of supported 400GE interfaces, including 400GBASE-SR8, FR8, LR8, DR4, FR4, LR4, CR8, CR4 and 400ZR/ZR+.
Complete industry-standard Ethernet link test feature set for Layers 2, 3 and 4.
I2C/MDIO registers Read and Write.
Per-lane PAM4 host pre-emphasis settings.
Signal integrity check with FEC codeword symbol errors distribution and Skew.
Transceivers power consumption monitoring (voltage, current) and variable voltage supply.
Dedicated QSFP-DD head cooling fans (field replaceable) to optimize operating temperature verification of high-power class transceivers, such as ZR/ZR+
All-in-one solution with common legacy test interfaces.
Internal and external (cage) QSFP-DD temperature monitoring with overheating protection.
High-capacity power supply provides support for long range coherent line interface transceivers and 2x400GE applications
Battery (backup) operation improves mobility and efficiency in large hyperscale data centers, nodes, COs, R&D, evaluation labs and other field applications.
High-efficiency intelligent cooling system
Full-feature portable hand-held test set form factor, without compromises.
Test Interfaces
2x QSFP-DD (PAM4)
2x QSFP56/QSFP28/QSFP+ (PAM4/NRZ)
2x SFP-DD/SFP56/SFP28 (PAM4/NRZ)
2x SFP+/SFP (NRZ)
2x RJ45
1x RJ48 and 3x SMA (legacy)
2x Clock Inputs and 2x Outputs
Four independent test port groups
---