MHV - MINIATURE HIGH VOLTAGE 1kVDC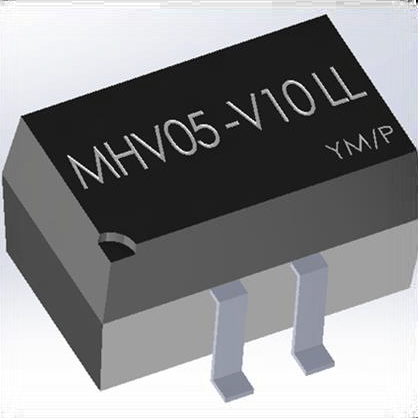 Heynen Standex Electronics wpuld like to inform you about a brand new MHV series of miniature
high voltage reed relays.
The footprintt is an SMD part with a very smaal footprint Length 17.2mm x Width 10.5mm x Height 8.5mm.

The application area of these parts includes electric vehicles, photovoltaic systems,
test and measurement, and medical equipment.
The part is designed to switch system voltages levels
up to 1kVDC and withstand even higher breakdown voltages with
a minimum of 3kVDC, while ensuring low leakage currents.
The MHV features an excellent electrical and thermal properties in
combination with the compact design.

The MHV's efficient power consumption coupled with its high voltage,
low leakage current, and high isolation properties make this series
ideal in any device containing a battery management system.
MHV relays are particularly suitable where isolation measurements
between low and high voltage circuits are frequently monitored.

FEATURES

• Smallest High Voltage Relay - up to 1,000 VDC Switching Voltage
• Breakdown Voltage 3 kVDC across the open switch
• 5 kV Dielectric Strength Coil/Contact
• Effective power consumption
• Meets creepage and clearance distance requirements acc. to IEC 60664-1, IEC 60255-27 and ISO 6469-3
• Designed to meet AEC-Q200, UL approved
• In compliance with RoHS and REACH
---