The innovative cable TV handheld device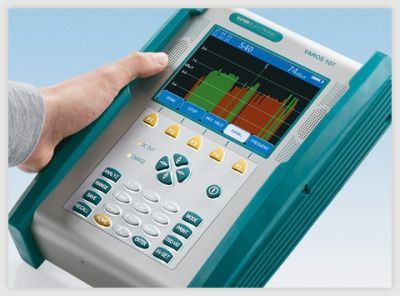 The VAROS 107 was specially designed for installation and maintenance of cable TV networks. The large high resolution TFT display, the backlit keyboard, the built-in DOCSIS 3.0 and EMI measurement all contribute to making work for the technician easier.
This hardware platform, as with AMA 310, allows you to add additional modules. This means that even for older devices following the installation of optional modules new or modified measurement modes are possible.
Real-time measurement with upstream generator (VAROS 107 / AMA 310)
Fast internet services, VoIP, online gaming … an interference free return path is essential for a high-quality broadband DOCSIS connection. The combination of a special KWS version of the real time X16 Kronback Tracer spectrum analyser in the headend and the successful cable handheld VAROS 107 as a field device provides a system that ensures high signal quality in the upstream frequency range. The ease of use, numerous measurement possibilities, automated test sequences, and a simple and clear logging complete this monitoring system. The upstream generator in VAROS 107 can be used as signal source for the return path from 5-65 MHz. Up to 4 carriers can be sent simultaneously (CW or PRBS). Level strengths, modulation, and symbol rates can be adjusted.
Main Advantages
Signal quality monitoring with data grabber
Upstream generator 5–65 MHz (CW and PRBS)
Rechargeable lithium ion battery 7.2 V/6.6 Ah
MPEG-4 decoder for SD and HD image display with CI slot and DVI out
Measurement data storage via USB
---