Knowles Capacitors, by virtue of its founding brands, is now a premier global source for Multilayer Ceramic Capacitors, Single Layer Capacitors, EMI suppression filters, Trimmer Capacitors, Thin Film Devices and High Reliability Capacitors. Together the company serves a variety of markets including military, aerospace/avionics, medical equipment, implantable devices, EMI and connector filtering, oil exploration, instrumentation, industrial electronics, automotive, telecoms and data networks.
Outlined are the 5 global facilities belonging to Knowles Capacitors (1 R&D in Norwich (UK); 3 production in Cazenovia (US), Valencia (US) and Suzhou (China); 1 distribution centre in Malaysia) which allow them to deliver products and service around the world, no matter the location or time zone. As recently announced, Knowles research and development Centre in Norwich (UK) have moved to new hi-tech facilities at the Hethel Engineering Centre. Knowles (UK) R&D facility has a traceable history back to the 1940's under Erie Electronics Ltd, before becoming Syfer Technology in the 80's. Over the years the R&D facility has led the industry with leading technical advances producing products of the highest quality, utilising superior materials that made Syfer a global leader. Today the remit is to support all four operating brands in developing new products.
This move reflects the commitment to R&D for the portfolio, manufactured at facilities in Cazenovia, Valencia and the newest of the factories in Suzhou, China. The capacitor facility located in the Xiangcheng Economic Development Area in Suzhou completed the relocation of Multilayer Ceramic Capacitor manufacturing from plants in the UK and Mexico. The 43,000m2 facility dedicates 10,000m2 solely to MLC production, with space to expand further. The Suzhou factory has seen more than a 50% increase in production capacity and is currently delivering a better than 95% on time delivery service and a 6 week lead time for standard products.
With the global R&D and manufacturing facilities now well established, the focus is shifting to new product
development. The current pipeline contains 3 main focus areas for new innovative products for demanding applications which includes; high voltage and higher capacitance density MLCC's for the replacement of film cap; high temperature and high Q MLCC's, miniature high-performance thin film filters and high voltage, higher capacitance density SLC's for high frequency communication; higher temperature, high reliability MLCC's for automotive applications.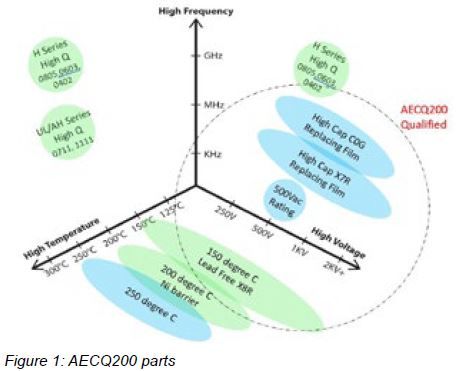 Simon Mao, MLCC Product Manager, gave an insight at Electronica 2016 as to the new product developments taking place. In the field of replacing film capacitors wherever size or temperature is a concern, or an AC rating or a high C/V value is required then StackiCap™ comes into its own. StackiCap™ surface mount MLCs are designed to provide high CV in compact packages and offer the greatest volumetric efficiency and CV per unit mass of
any high voltage X7R ceramic capacitors available. Knowles has conceived, developed and protected (GB Pat. App. 1210261.2) a unique process in order to deliver this groundbreaking product. Combined with FlexiCap™ stress relieving terminations these parts have the potential to replace film and tantalum capacitors and make many stacked products obsolete. StackiCap™ parts are suitable for a plethora of applications such as switch mode
power supplies for filtering, tank and snubber, DC-DC converter, DC block, voltage multipliers etc. and will provide huge benefits in applications where size and weight is critical. At this moment 1812, 2220 and 3640 case
sizes have been launched and are commercially available, sizes up to 8060 are still under development.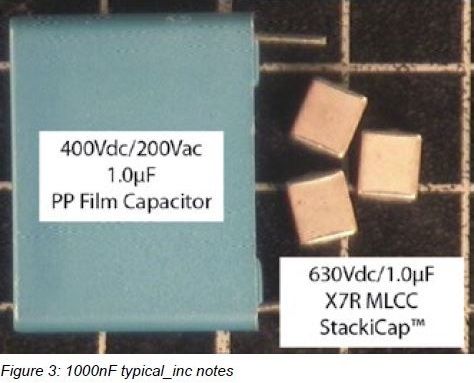 One of Knowles strategic market focus areas is in electric vehicle charging, EV/HEV. Here the company sees its knowledge of producing components used in harsh conditions to be of considerable benefit to manufacturers – FlexiCap™ termination process and StackiCap™ high C/V technology being in the forefront. Products like open mode and safety certified Y2/X1 capacitors along with X2Y EMI filters are just some that will be of interest.